Aalborg University Education Delegation Visit the Center and Push Forward the Cooperation
---
On September 13, 2018, Professor Shengquan Yu, Executive Director of the Advanced Innovation Center for Future Education (AICFE), and Associate Professor Yu Lu, Director of the AI Lab, hosted the delegation of University of Aalborg (AAU), Denmark. Professor Annett Lorentsen, Director of the Department of Learning and Philosophy, Professor Morten Misfeldt, Professor Bent Mikkelsen, Professor Eva Brooks, Associate Professor Anders Kristian Munk, and Assistant Professor Lars Jensen attended academic exchanges activities, along with another seven faculty and staff. Other attendees included Dr. Baoping Li, Dr. Penghe Chen, Dr. Lishan Zhang, Associate Project Manager Jiachen Song, Beijing Normal University (BNU) Master student Yan Peng, Tianqi Xue and Li Zhang from the center.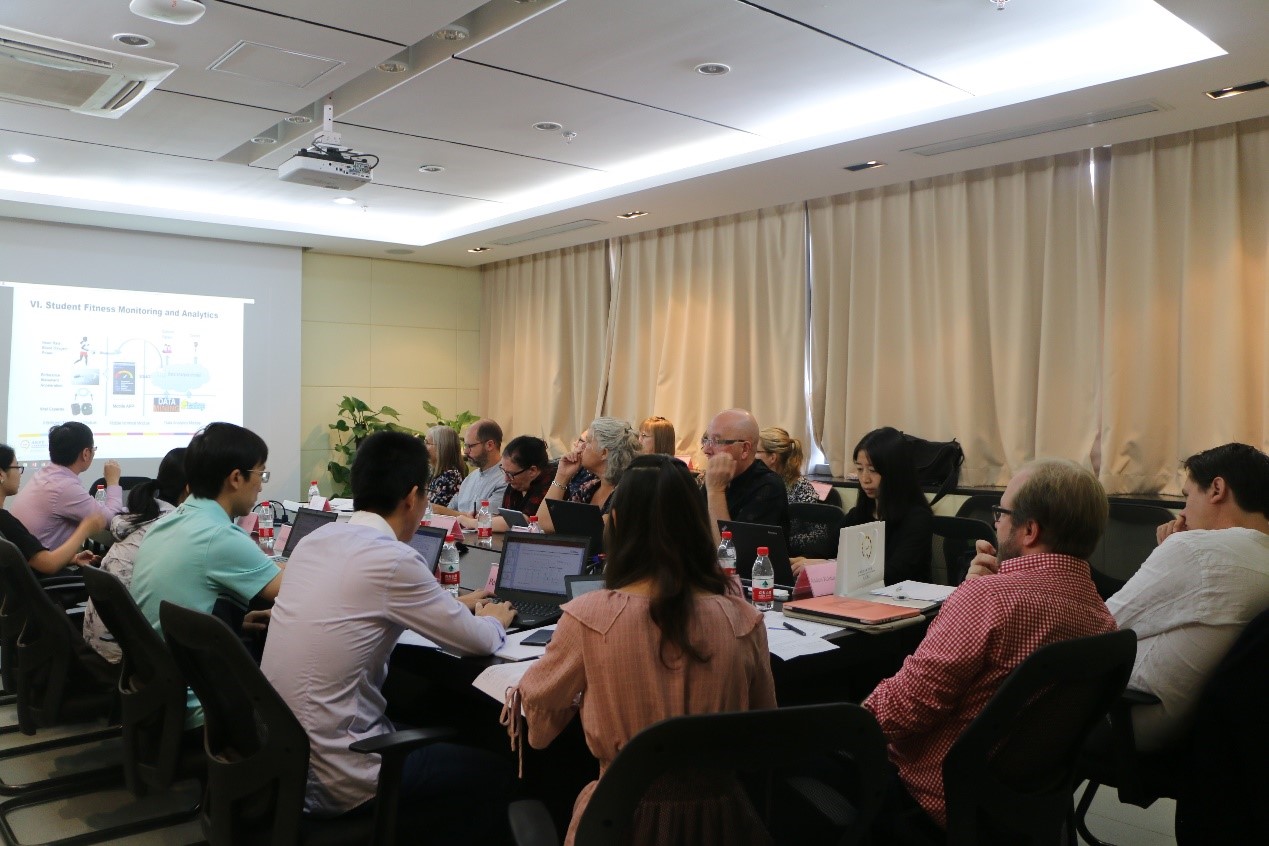 The Workshop
The visit was in two sections. In the morning, a workshop was organized for two sides. In the afternoon, selected researchers discussed educational data analysis platforms in a small-scale.
At 9am, Professor Yu addressed the attendees and introduced the group from AICFE. Professor Eva Brooks shared the research and influence of educational robotics on young children's development. Jiachen Song briefly introduced the AICFE and demonstrated the Smart Learning Partner platform. Then Associate Professor Yu Lu gave a presentation on data-driven learning analysis, focusing on major research projects of the AI Lab, such as the construction of educational knowledge graph, student performance prediction and learning behavioral recognition and analysis. Professor Morten Misfeldt introduced cognitive network analysis tools, which can help researchers better understand student's learning dynamics and learning behaviors and adjust the system as student's cognition improves. Dr. Lishan Zhang emphasized on the Domain-specific Dynamic Problem Solving Ability Assessment. Dr. Zhang's research aimed to establish a set of assessment tasks that require students to explore and solve real-world like problems and monitor how students solve the problems by recording their steps into log files. Associate Professor Anders Kristian Munk explained the tool Gephi in the analysis of various networks and complex systems for interactive visualization of dynamic and hierarchical graphs. Next, Dr. Penghe Chen shared Prerequisite Driven Deep Knowledge Tracing that helped to develop personalized learning, resource recommendations, learning disability analysis, and course planning optimization. Assistant Professor Lars Bang Jensen reflected on the assessment and testing of students in Danish primary schools. The last speaker, Yan Peng, gave us a detailed introduction to the design and application of the educational knowledge graph.
In the afternoon, Associate Professor Yu Lu, Dr. Penghe Chen and Dr. Lishan Zhang further explained the details of AICFE's research directions and projects to Prof. Morten Misfeldt, Prof. Bent Mikkelsen, Associate Professor Anders Kristian Munk, and Assistant Professor Lars Jensen. Thanks to this time's fruitful meeting, the two parties wished to further the implementation and localization.
This exchange enhanced the understanding of both sides and opened the door for future cooperation in educational technology. It is expected to reach the cooperation between Professor Eva Brooks and the center. The proposed project named Designing Playful Collaborative Cultures through Hybrid Storytelling Practices in Early Childhood Education, and will last for one year.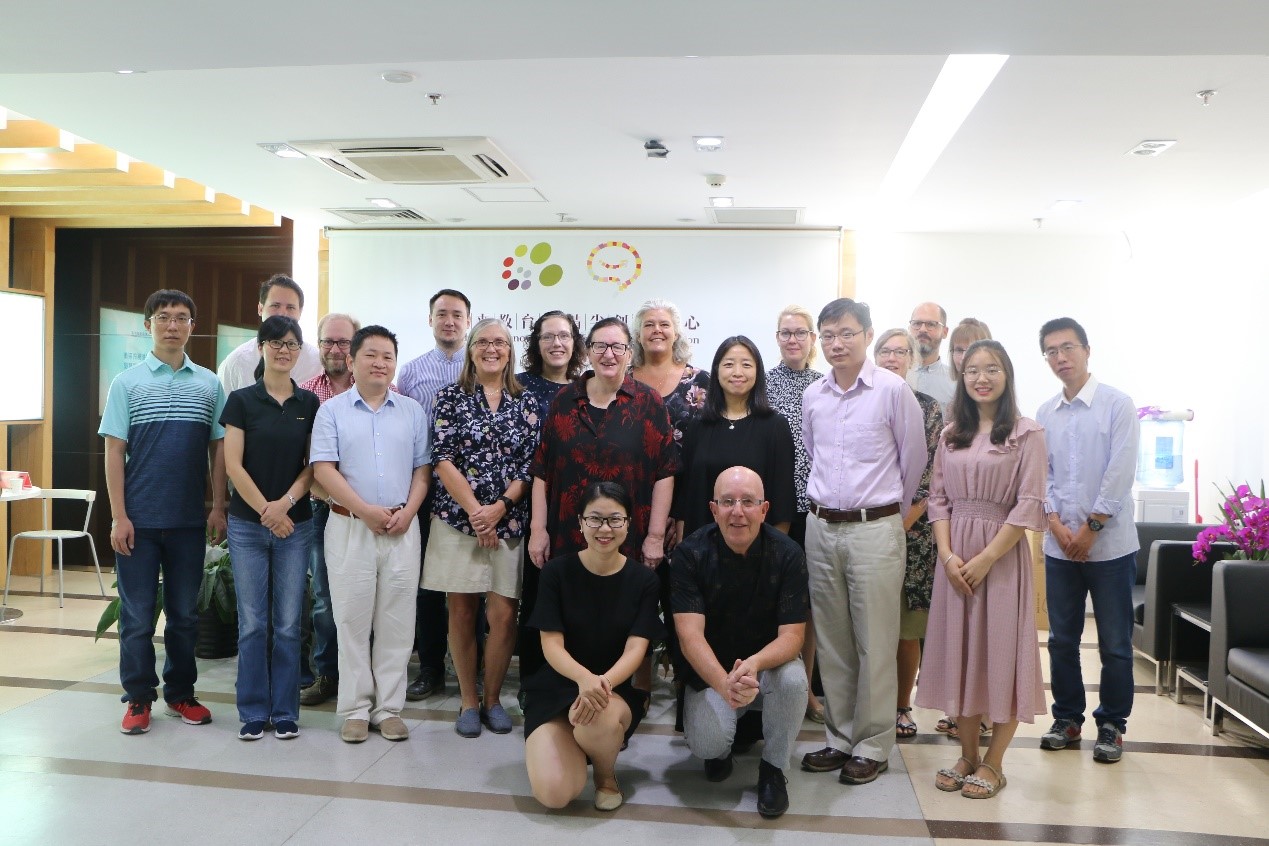 The Photo of Visitors from AAU and Main Attendees of AICFE