Attendees from International Network of Educational Institutes Visit the Center
---
The 2018 annual meeting of International Network of Educational Institutes (INEI) was held from 20th November to 21st November in Beijing Normal University (BNU), the theme is 'Cultivating Core Competences in a Changing Technological Society'. Prof. Shengquan Yu from Faculty of Education, BNU, invited participants to visit the Advanced Innovation Center for Future Education (AICFE), demonstrating new application of online teaching and learning and the effects in multiple secondary schools when China is experiencing the new wave of technology.
On 20th November 2018, there were more than 20 participants went to the AICFE who are from UCL Institute of Education, University of Melbourne, Dublin City University Institute of Education, Seoul National University, Hiroshima University, University of Wisconsin-Madison, Indiana University Bloomington, and University of Cape Town.
In the morning of 20th, Prof. Shengquan Yu first gave a keynote speech entitled 'AI Teacher's Future Role'. The speech started from the news where Alpha Go beat the Lee Sedol, covering major breakthroughs in AI. The report also showed AI Tutor, Smart Learning Partner and Online and Offline Teaching Services (OOTS). Many experts agreed that it is important to integrate AI and modern education and emphasize the technology's invaluable role in assisting teaching.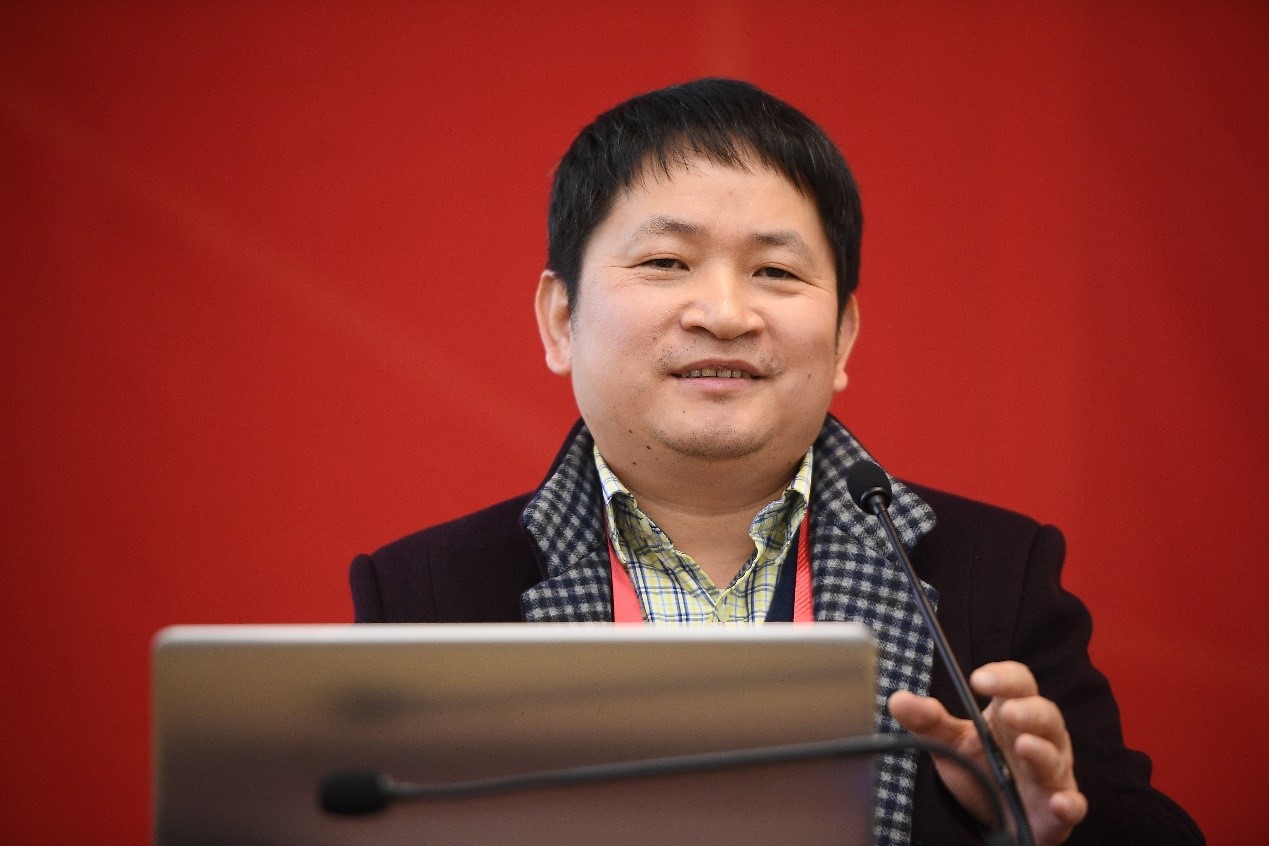 On 20th November, Prof. Shengquan Yu in His Keynote Speech
At 3:00 pm in the afternoon, Linlin Ji from Administrative Office of AICFE guided visitors to the smart piano room. Then she showed functions of the smart piano, such as the automatic playing, real-time playing data collection and analysis, distance education from experts and online piano courses. Scholars and experts gave compliments and showed interests in integrating technologies in arts education.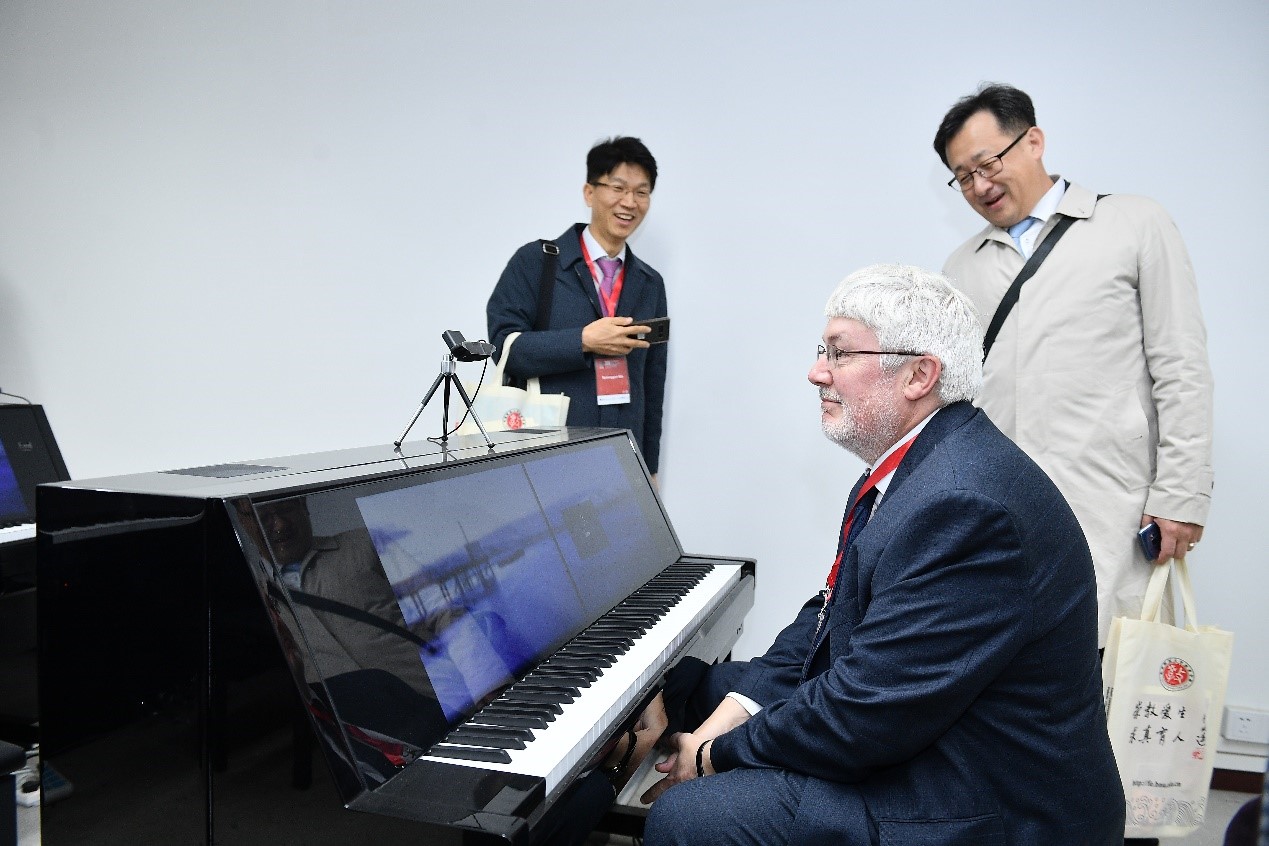 On 20th November, Scholar Playing the Smart Piano
Project Manager Jiachen Song then systematically introduced the platform, service and projects of the AICFE, such as AI Tutor, Smart Learning Partner, Online and Offline Teaching Services and Future School 2030. Attendees are very impressed by the center's work which can concentrate good resources and better allocate them to serve more students.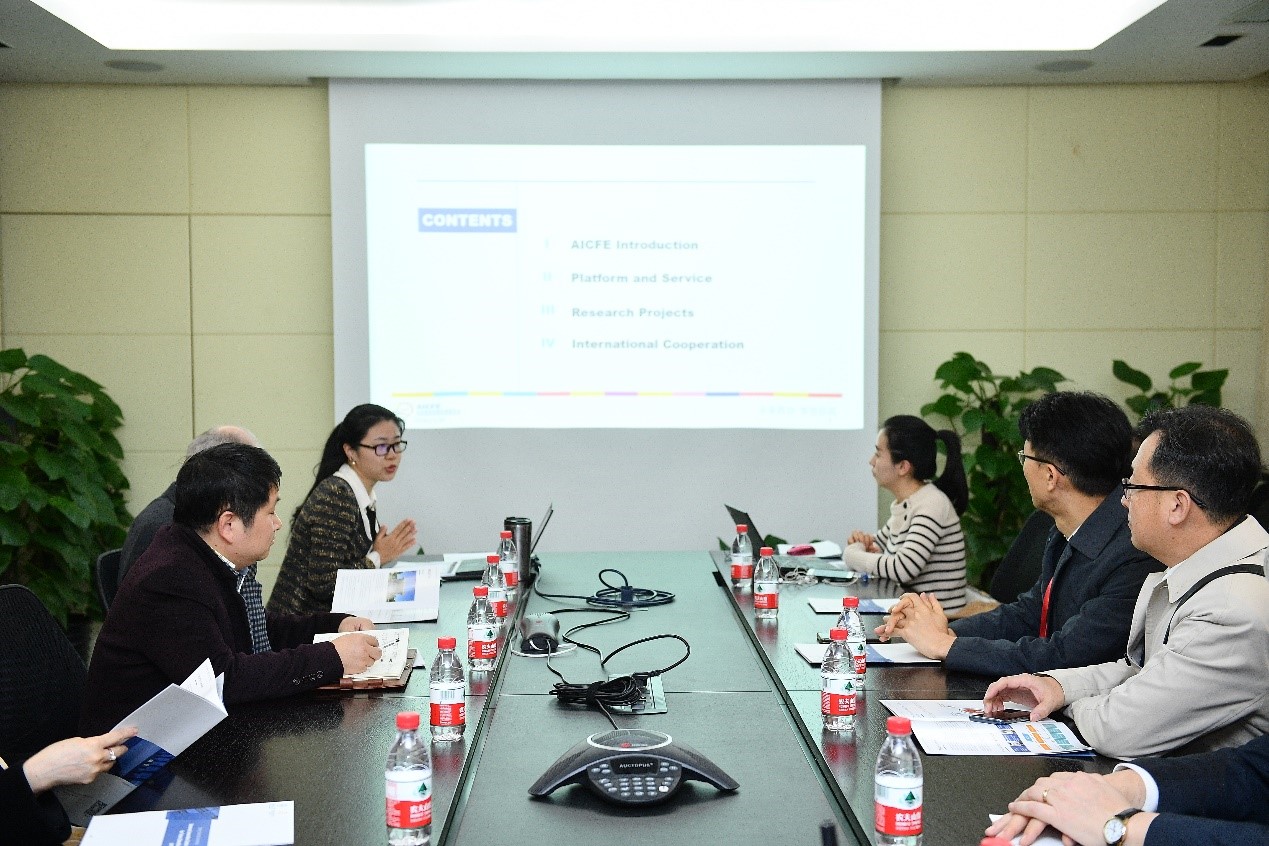 20th November, Jiachen Song at the Meeting
The OOTS project manager Xiaole Xie and Project Executive Li Zhang both presented how to use the Online and Offline Teaching Services platform and the digital pen. Professors and researchers are very interested in this. The digital pen can help teachers tutor online in traditional hand-writing way meanwhile reduce cognitive loads of new technologies.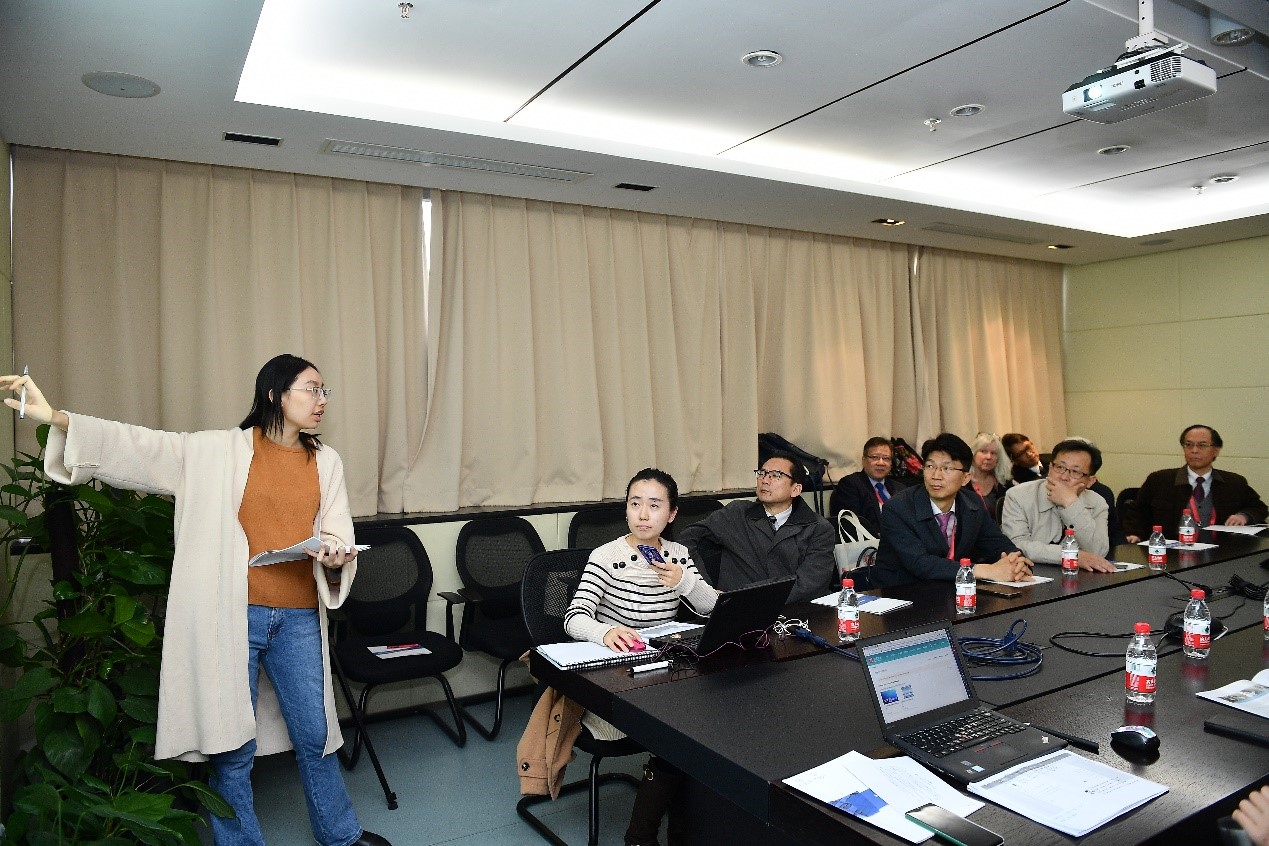 20th November, Li Zhang Explaining the Online and Offline Teaching Services
Then Research Assistant Tianqi Xue and Li Zhang have a final demonstration of the intelligent educational robot. A complete learning process was shown and visitors took photos and videos of it. It is believed that educational robotics is helpful to attract and engage students. But the implementation of robot to schools or families will go a long way before the cost is reduced.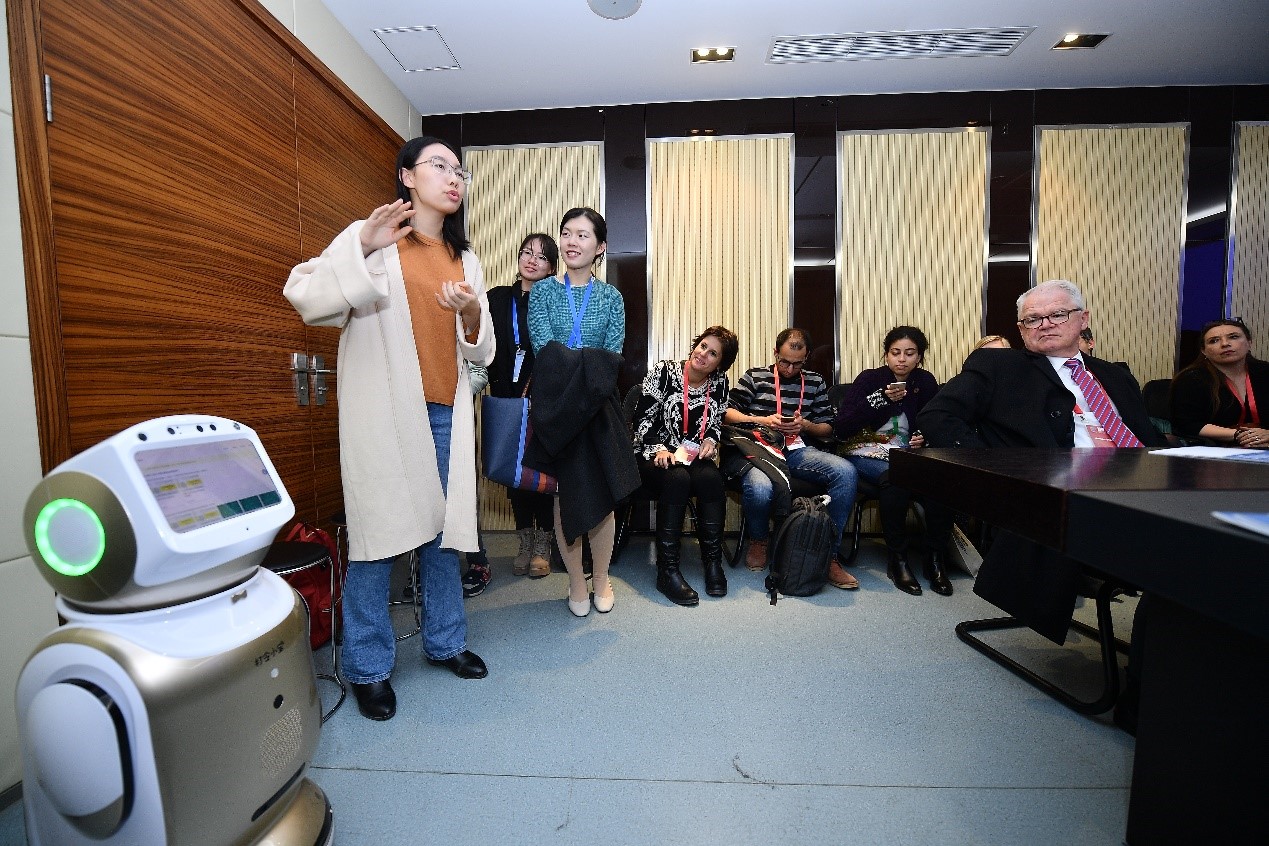 20th November, the Educational Robot Showing Learning Material on Its Screen
The visit came to a successful end at 5:00 pm. Prof. Masataka Koyama and Prof. Yasushi Maruyama from Hiroshima University expressed their admiration to the center, hoping to get fund from local government to build similar centers, and driving the growth of modern education.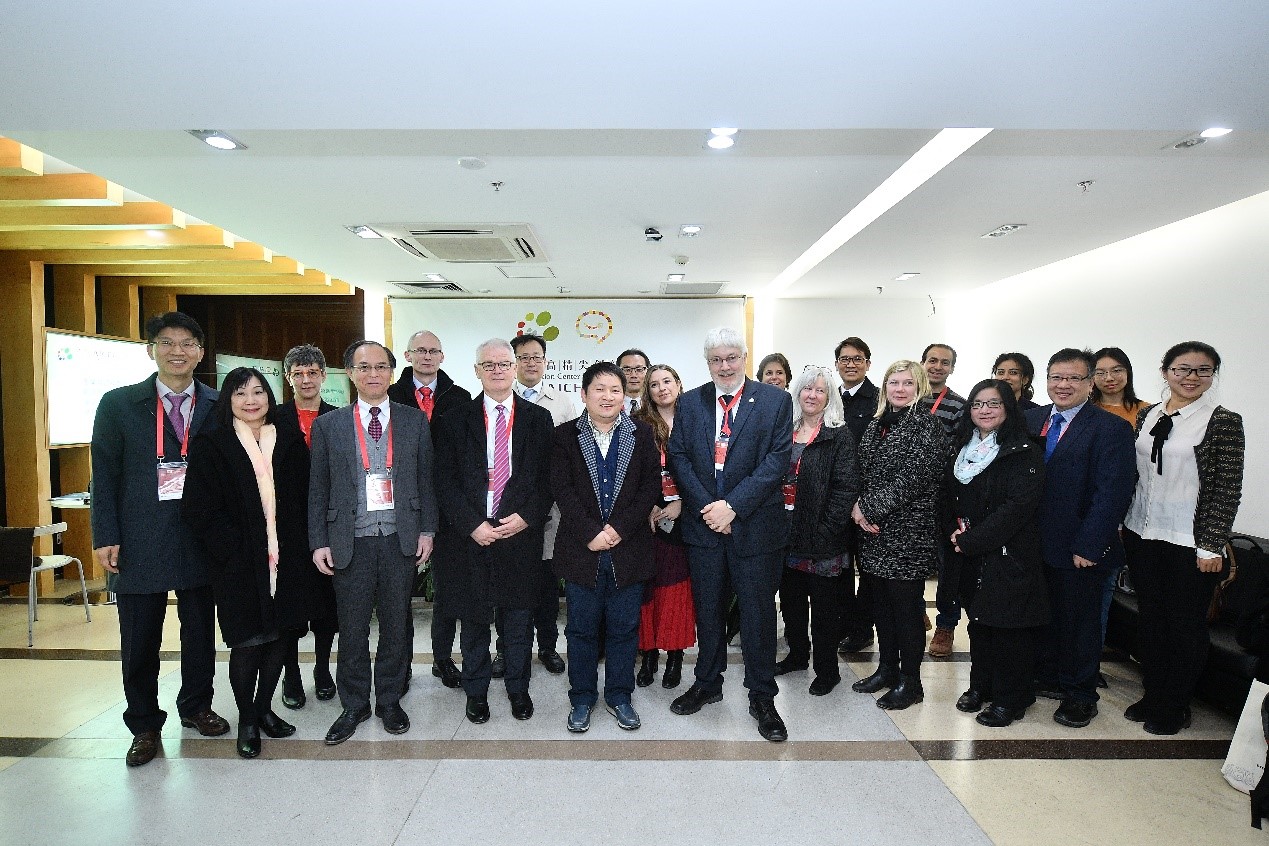 20th November, The Picture of All Visitors